People rely on prescription drugs and medical products every single day to treat diseases, fight pain and maintain a higher standard of living. The Food and Drug Administration (FDA) estimates that as many as three billion prescriptions are written each year. But as much as we have come to rely on these products and expect them to be safe to use, every year over 200,000 people die in the United States due to adverse reactions to prescription medications.
FDA Approval is No Guarantee of Safety
What about the regulations that are supposed to keep us safe? Unfortunately for every consumer there is growing evidence that many drugs and pills marketed towards the general public are inherently dangerous and that their producers know it. As a matter of fact, in the past twenty years the number of recalls on the medications that we take has dramatically increased.
Pharmaceutical companies often spend years if not decades developing new drugs to sell. Only a tiny percentage of the medications that are developed will ever actually reach the human testing phase of clinical trials and an even smaller percentage of those tested drugs will be approved by the FDA. Pharmaceutical companies are supposed to test for adverse side effects and report them to the FDA. However, due to financial pressures, many pharmaceutical companies hide or downplay the side effects that new drugs have on people in order to better the chances of gaining approval.
In recent years medical manufacturers have turned to marketing drugs for uses for which they were not originally approved. We here at Cash, Krugler & Fredericks are familiar with this phenomenon. Medical manufacturers repurposing already approved drugs for alternative uses typically result in side effects previously not encountered in testing and unexpected complications, all in the name of turning a profit.
These adverse side effects are not limited only to pharmaceutical drugs. Medical devices, like artificial hips for hip replacements and the contrast dye used in MRIs, can also cause severe side effects in the patients who receive them. In these two cases, evidence seems to point to the fact that the manufacturers knew of these side effects but continued to market these medical materials as safe and effective. These deceptive practices by medical manufacturers put everyone at risk for serious life altering disabilities and even death.
Injured by a Dangerous Drug or Medical Device? We Can Help
Consumers have a reasonable expectation that the drugs and medical devices they use are safe. In order to make an informed decision, though, consumers need all the facts. Deceptive and unsafe practices by medical manufacturers put everyone at risk for serious injury and death. We here at Cash, Krugler & Fredericks are well versed in pursuing companies for their negligent practices that put the general public at risk. If you reside in Georgia and have been injured due to an unsafe drug or medical device, do not hesitate to contact us to better learn about your rights and how you may recover. Contact us today at (404) 659-1710 for a consultation.
See Related Posts:
Proper Signage Can Save Lives and Lawsuits
Nationwide Recall of Potentially Deadly Airbags Expands in Scope
Highway officials have been warning Atlanta drivers that their regular commutes may include much more congestion. Evacuations in the wake of Hurricane Matthew are causing extra traffic in the metro area. More than 1.5 million Floridians and Georgian residents along the coast were ordered to evacuate in the wake of the storm.
In response, Georgia Department of Transportation is suspending all construction-related lane closures and traffic is being redirected in an attempt to minimize the impact of the extra drivers. Drivers are being reminded to not drive around traffic barriers and to be extra alert as they share the roadway with evacuees. Highway Emergency Response Operations vehicles will also be deployed to help drivers with roadside emergencies such as accidents and running out of gas.
Hurricane Matthew which was originally listed the by the National Hurricane Center as a Category 4 storm weakened to a Category 2 hurricane as it moved up the coast. Category 2 storms have maximum winds of 110 mph. More than 1 million Floridians are reportedly without power. With so many people fleeing the area, many hotels in southern Georgia are already at capacity and more people are making their way into Atlanta.
Increased Risks with Congested Roadways
According to the Georgia Governor's Office of Highway Safety, there were 1,179 traffic fatalities in 2013. With more people on the roads, the risk of accident increases. Protect yourself and your family by following all traffic regulations and laws, including:
Never drive under the influence of drugs or alcohol. Georgia's DUI laws state that drivers with a blood alcohol concentration of 0.08 or greater may be subject to fines, suspension of their license, and even jail time.

Obey speed limits and road signs. Speeding tickets can result in monetary fines, including a Super Speeder fine which is an additional fee of $200 when the driver is convicted of excessive speeds.

Super Speeder

violations are listed as 75 mph or more on a road of two lanes, or 85 mph or more on any road or state highway. Unpaid tickets or habitual traffic violations can also result in the suspension or revocation of a driver's license.

Buckle up. Georgia

law states

that all front seat occupants of passenger vehicles must wear a seat belt. According to the

Centers for Disease Control and Prevention

, seat belts saved 12,802 lives in 2014 and reduce serious crash-related injuries and deaths by about half.
If You are in an Automobile Accident, Be Sure to Consult with a Georgia Personal Injury Attorney
Whether or not you experience an automobile accident in a hurricane or perfect weather, you should not try to deal with the aftermath by yourself. You may deal with traffic every day of your life but you do not deal with traffic accidents on a daily basis. Consult experienced personal injury attorneys who do. If you or a loved one is injured or killed in an auto accident, contact the personal injury attorneys at Cash Krugler & Fredericks, LLC. Contact them at (404) 659-1710 or visit them online to schedule a consultation today.
See Related Posts:
Recent Elevator Explosion Highlights Hidden Hazards
What Constitutes Medical Malpractice In Georgia?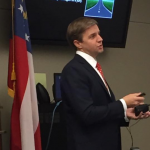 Shane Bartlett recently spoke at a CLE held by the Cobb County Trial Lawyers Association.  His presentation explained the effective use of demonstrative evidence at trial.
Blue Bell Ice Cream is once again the center of a product recall. The company has issued a voluntary recall of select products due to a potential for it to contain Listeria monocytogenes. The affected products are ice cream half gallons and pint sizes of Chocolate Chip Cookie Dough and Cookie Two Step. At this point, there have been no reports of illness. Blue Bell is reported to have caught the issue during routine product testing and alerted the third-party supplier of the cookie dough involved.
Previous Safety Concerns
The ice cream company remains under federal investigation relating to a deadly multi-state Listeria outbreak in 2015. The incident last year caused the company to voluntarily recall all of its products as well as temporarily shut down operations. During this period, 10 patients in four states were infected with several strains of Listeria. All ten patients were hospitalized due to their illnesses and three deaths were reported from Kansas.
Food Safety
The U.S. Food and Drug Administration is in place to investigate potential food safety issues. They work alongside the Centers for Disease Control and Prevention and state and local government officials to determine the source and severity of safety violations. The information from these investigations hold companies responsible for unsafe practices.
Listeriosis is an illness caused by eating food contaminated with the bacteria listeria monocytogenes. This illness can be fatal, especially to high-risk groups, such as the elderly and those with a weakened immune system. Symptoms include:
Fever and chills

Muscle aches

Diarrhea or gastrointestinal symptoms
Liability and Third-Party Suppliers
Blue Bell has determined that the source of this Listeria scare is the egg-free cookie dough in their ice cream products. This cookie dough is not, however, manufactured by Blue Bell. A third-party supplier, Aspen Hills, Inc. manufactures the no egg chocolate chip cookie dough.
Very few products are made entirely by one manufacturer. Parts and individual ingredients can be produced, shipped and handled by a number of different companies before ever being added to the final product. These third-party suppliers may not be subject to the same standards. In this instance, Blue Bell has very little control over the practice and standards held at Aspen Hills. While Blue Bell has an invested interest in ensuring the overall product safety, the actual manufacture of the components are relatively uncontrolled.
Keeping Your Family Safe
Food safety recalls should never be ignored or taken lightly. Any recalled items should be returned to the place of purchase for a refund. The experienced attorneys of Cash Krugler & Fredericks are here to represent victims and their families who have become ill due to unsafe food manufacturing practices. Contact your legal team at Cash Krugler & Fredericks by dialing (404) 264-1710 or by visiting them online.
See Related Posts:
What Constitutes Medical Malpractice In Georgia?
Recent Elevator Explosion Highlights Hidden Hazards
Samsung's Galaxy Note 7 has recently made headlines for all the wrong reasons. The Note 7 has been recalled and all sales have been halted due to faulty components causing battery explosions. All Note 7 phones sold prior to September 15 are affected by the recall and should be returned or replaced. Faulty, low-quality battery cells have been known to overheat and fail when charged. This has caused the phone batteries to explode when charged beyond a certain percentage.
This recall reportedly includes 1 million smartphones. While this is not the first case of faulty phone parts or even of overheating batteries, the severity and size of the issue is alarming. According to the Consumer Product Safety Commission, as of September 15 there have been nearly 100 reports of batteries overheating in the U.S., including 26 reports of burns and 55 reports of property damage.
What to Do With a Recalled Phone?
If your smartphone is part of this recall, do NOT keep using the phone. It is important that you take proper precautions and abide by the recall and return notices. Samsung announced that while they have no plans to replace the affected phones, consumers can return the phones and get their money back. Phones can be returned for a refund by contacting the store you purchased it from or your wireless provider. While all carriers are required to honor the refund agreement, some providers still have conditions, for example Verizon will charge a restocking fee for phones returned after September 30.
Who is Responsible When a Product is Faulty?
Products that malfunction, fail to work properly or are simply dangerous should not be left on the market. In product liability cases, there may be a number of parties responsible in the eyes of the law, including:
The product manufacturer

A manufacturer of component parts

An assembly or installation company

The wholesaler

The retail store
In product liability cases, it is vital to prove that the product was defective and unreasonably dangerous. There are three type of defects:
Designer defect:

the basic design of the product is inherently unsafe for the general consumer

Manufacturing defect:

a defect that occurs in the course of the product's manufacture or assembly

Marketing defect:

the product was improperly labeled, instructions were insufficient, or safety warnings were lacking.
In the case of the Samsung Galaxy Note 7, the battery defect is believed to be a manufacturing defect. It is believed that an error in production caused undue pressure on the plates contained within the battery cells. This pressure brought the negative and positive poles in contact, causing excess heat and even sparking.
Who Can Help?
Product recalls can be difficult to navigate. Faulty products, such as overheating batteries, can cause physical injuries and property damage. The experienced attorneys of Cash Krugler & Fredericks can help fight for your rights. Their history of handling defective product cases can prove beneficial in any case as they can provide you with the resources needed to take on large companies.
See Related Posts:
What Constitutes Medical Malpractice In Georgia?
Recent Elevator Explosion Highlights Hidden Hazards